July 18th, 2010

Well, I did it. I paddled by myself from Peace River to Tompkins Landing. If I'd had a little more time, I would have continued to Fort Vermilion, but with the Canoe Races at Hutch Lake on Saturday, I decided to come off the water a couple of days early to prepare. So, Wednesday, I sent frequent SPOT updates to Darren, as was our plan if I wanted to be picked up. It worked great. What an incredible journey!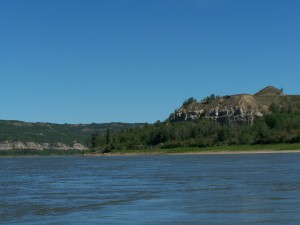 Some stats about my trip:
– My GPS says 305 km paddled, but it was tracking while I walked around a bit too, so it's probably about 295 km paddled or so.
– My GPS says I spent about 40 hrs 49 min moving and 20 hrs 28 min stopped. But I'm pretty sure it doesn't account for time it's turned off (at night, and at some stopovers, to save batteries).
– My gear weighed 86 lbs (39 kg). My kayak (a Prijon Kodiak) weighs 62 lbs (28 kg). I weigh 130 lbs (59 kg). Therefore, my arms and core body transported 278 lbs (126 kg) approx 300 km (the current helped). And I also lugged that 148 lb (67 kg) kayak up the shore repeatedly!
– I spent 6.5 days and 6 nights on the river.
– My average was 46 km per day. I aimed to do 50. This is considerably faster than the 10-day package (43 km/day), but in line with the 8-day package (55 km/day).
– I sat on shore through 2 thunderstorms, with nothing but a raincoat for protection! (That's also why I didn't make 50 km every day.)
– I used 1 bear-proof container, 6 dry bags, 1 mesh bag, and about 30 ziplock bags!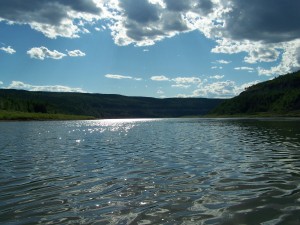 – Of the 6 times I camped in the wilderness, 4 times were completely away from people (more than 20 km?). The 2nd night I camped at Sunny Valley with a farm and cottages nearby, and the last night I camped on a new friend's yard (wonderful Metis man I just met). 🙂
– I did all this with no rifle, only a can of bear spray, but I didn't see any bears. It would have been a challenge to keep a gun dry….
– I didn't lose or break a single item I brought along.
– I saw deer, moose, elk, wolf, various bird and beaver tracks. I saw actual deer, including some fawns, elk (one calf), beavers, bald eagles, other eagles/hawks. No wolves or bears — not even any bear tracks. That doesn't mean there aren't any, just that I didn't see any.
– I heard all sorts of interesting sounds and birds that I wish I could identify!
It was a truly phenomenal trip, and since I did it alone, I had lots of time to think and reconnect to myself. I know it sounds a little corny, but in today's hi-tech world and fast pace, we can get disconnected with ourselves, and taking time away to reconnect is so important. I am much more "the real me" now and far less stressed.
I've been adjusting to being back in society for almost a week now, and I'm feeling pretty well integrated again. My senses were pretty heightened, and I was more introverted than before, but I'm pretty well back to normal now. If you'd like to chat with me about my experiences, I'd be more than happy to share what I've learned and details for places I've camped. I'm working on a trip report that I will post on Canadian Canoe Routes, Paddling.net, Paddle Alberta and maybe a few other places. Once I'm done that, I'll post the links here. I'm also planning on uploading a bunch of photos to Panoramio — I'll post the link on this blog when I do!