For 18 days, we lived like Yorkmen. We rowed and sailed our way down the ribbon of water, having stepped back in time and into the moccasins of 19th-century fur traders.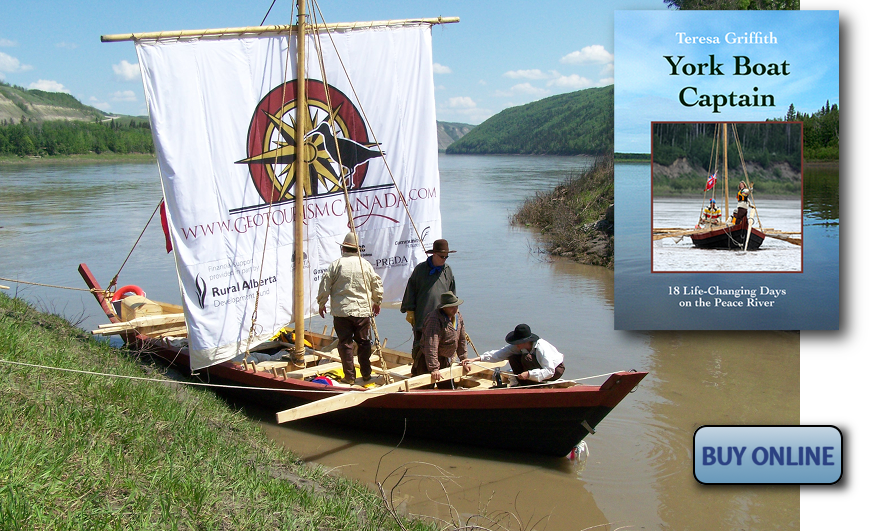 One crew, 18 days, over 500 kilometres

In June 2011, Flow North, in partnership with GeoTourism Canada, led a York boat expedition from Fort Dunvegan to Fort Vermilion, on the mighty Peace River in Northern Alberta. Flow North's Teresa Griffith was the project manager and Captain of the expedition, leading her capable crew safely down the river. The crew were selected based on:

strength and endurance
mental toughness
ability to work with a team
willingness to live as a yorkman for the duration of the trip.

And what a crew they were! Each one showed amazing skills, strength and tenacity, along with the all-important positive attitude. They all were hard-working, fun-loving, and adventure-seeking… everything a Yorkman should be!
The crew covered approximately 30 km per day, through wind, rain and snow, roughly following the Paddling the Peace guide that Teresa wrote for GeoTourism Canada's MySites! pages. GeoTourism Canada is a not-for-profit organization developing theme-based travel guides designed for tourists interested in nature, exploration, new experiences, history and education. GeoTourism Canada's goal is to create meaningful travel experiences in rural Alberta, for tourists from afar and for those of us here at home. Visit the MySites! pages to see what there is to do!

The York boat was constructed by North Woods Canoe Company Ltd of Cochrane, Alberta, based on historically accurate plans. It was completed in an amazing three-month timeframe.

The expedition was a huge success, with six school presentations given to approximately 550 students. Countless members of the public came to see the boat and crew at official events at Dunvegan, Strong Creek, Peace River, Notikewin Provincial Park, and Fort Vermilion — and along the river at many other spots.
---
Now Available in paperback: York Boat Captain
"This book is truly an enthralling, captivating, informative and many times funny, darn good read — well worth your time, whether a river or boat lover." – Beth Wilkins, Peace River Museum, Archives and Mackenzie Centre
After the trip was over and the mud was cleaned out from under her fingernails, Teresa got started writing a memoir — but not a boring one! — about this one-of-a-kind expedition. After two years, it is finally available to the public. Look for it under the title York Boat Captain — 18 Life-Changing Days on the Peace River. You can buy this 248-page paperback online here or at these locations:
Audrey's books (Edmonton, AB)
Totem Outfitters (Edmonton, AB)
Fort Edmonton Park (Edmonton, AB)
Rochfort Bridge Trading Post (Hwy 43 between Sangudo and Mayerthorpe,AB)
High Level Valu-Drugs IDA (High Level, AB)
Books For You (Duggan Mall, Camrose, AB)
| | |
| --- | --- |
| Front cover | Back cover |
| | |
Text from the back cover:
Come aboard as Teresa Griffith recounts the adventures of the first York boat to ply the waters of the Peace River in 80 years. She and her intrepid crew face bad weather, long days, hordes of mosquitoes, and deep, sucking mud in their historical reenactment of a 540-km (335-mile) journey on one of Canada's largest rivers.
If you own or operate a book store, gift shop, visitor centre or museum and would like to sell Teresa's book, please contact us.
---
York Boat Videos

If you're in a rush, skip to 1:50 to see the York boat and Teresa.
Other York boats
A short video of Fort Edmonton's York boat, on a practice run – video 1
A short video of Fort Edmonton's York boat, on a practice run – video 2
Fort Edmonton's York boat arriving (North Saskatchewan River)
Quest for the Bay Series Trailer

---
Related Pages
Buy York Boat Captain online
York boat blog posts
York Boat Photos of the Day
Original Press Release for the Expedition
Quest for the Bay mini-series trailer on YouTube
Spirit River's blog post about the York boat expedition
---