Spirit is always with us… but sometimes we need to get away from our ordinary lives to experience it anew.
Three-day Spiritual Paddling Retreat on the Peace River
Friday, Sept 3 to Sunday, Sept 5, 2010.
The Spirit of the River
Every river has a certain spirit or character… The Peace River is named for a peace treaty between two long-warring First Nations tribes, the Dene (beaver) and the Cree. The treaty declared that the Dene would stay north of the river and the Cree south. Once you paddle it, I think you will agree this river is aptly named — paddling it brings such peace and serenity, harmony with nature, and greater self-acceptance. Living in nature for several days in a row helps me connect with the Earth and remember my Spiritual identity. I've learned to paddle in a very meditative and soothing, peaceful and harmonious way.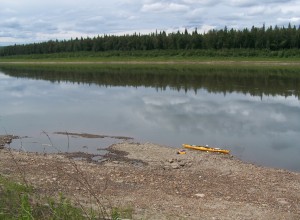 My vision for this trip is simply to bring people together who would like to reconnect with Spirit. For the most part, our spiritual time will be unplanned and spontaneous. We'll meditate together and we may have a sharing time each evening. You'll have plenty of quiet, alone time. You may bring along a short meditation or reading that you find particularly inspiring to share with the group, perhaps on the first day. There is a maximum of 8 people on this trip, and I encourage you to come without your spouse, to help you connect with yourself.
This is a non-denominational non-evangelical (i.e. not evangelizing) spirit paddle.
Travel Logistics
The trip will take us from the start in the town of Peace River to Sunny Valley, about 90 km downstream (north). We'll paddle about 30 km (19 miles) each day, which is more than just floating, but not a strenuous day's paddle. We will be backcountry camping, but won't actually be very far from road access at any time. We'll carry SPOT GPS Trackers, to let loved ones know where we are, and in case of emergency.
To get to Peace River, you can fly or drive, depending on where you are coming from. If you prefer to fly, you can fly into Peace River from Edmonton City Centre Airport using Northern Air. If you prefer a larger plane, look into using Westjet into Grande Prairie. Westjet flies from some major American cities and many Canadian ones, including Edmonton and Calgary, which both have international airports. We'll pick you up at either the airport in Grande Prairie or Peace River on September 2. If you drive, we'll meet you in the town of Peace River.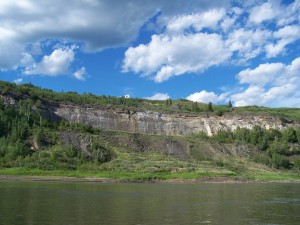 We'll all stay at the beautiful Wild Rose Guest House on Thursday night (Sept. 2), so we can meet, get to know each other a little, and review a few safety points. We'll start from downtown Peace River on Friday morning, and be on the water for a total of 3 days. We'll camp along the river each night, including the evening of the third paddling day, at Sunny Valley. On the 4th day, Sept 6, we'll drive back to Peace River, taking you back to your vehicles, or either airport. Please try not to book any early flights, as it will take us about 1.5 hrs to drive from Sunny Valley to Peace River, or 3.5 hrs to Grande Prairie. You may choose to stay at the Guest House again on the night of September 6th if you like (at extra cost).
Do You Canoe?
Please be aware that although I am organizing this trip, I am not a certified instructor for canoeing or kayaking. It is best if you already have some experience canoeing. If you don't, please contact us to discuss your options. Many provinces/states have paddling associations that keep lists of instructors and canoe clubs that offer classes. Please let us know when you book the trip whether you prefer a canoe or kayak (see our boats here).
It would be ideal if you have camping experience as well, but I can help in this area. I have paddled this section when I did my expedition, so I am familiar with the river and possible places to stop for breaks and to set up camp.
Weather in Northern Alberta
While we'll be paddling farther north than you may have ever been, don't expect cold weather. Early September is usually quite mild and pleasant, with the average daily high temperature 16 C (60 F) and nighttime low 3 C (37 F) — it can actually be quite a bit warmer than that. The historical all-time high for Peace River is 36.7 C (98 F), although we're more likely to have daytime highs in the 20's C (70's F).
Other Details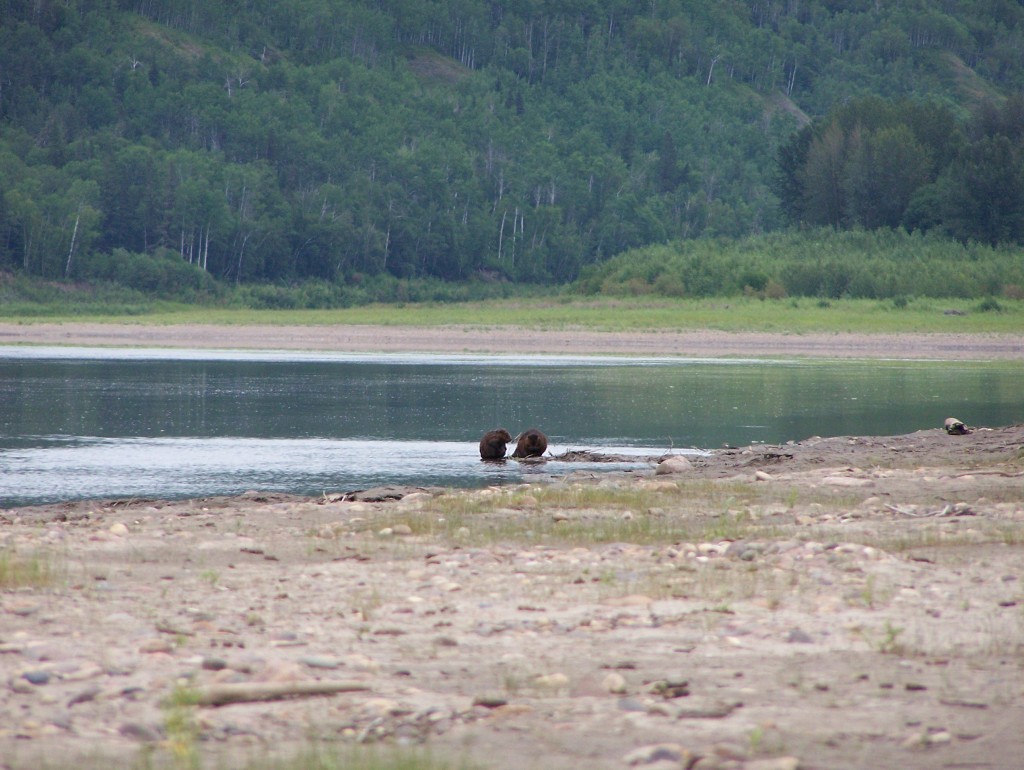 Expect to see plenty of wildlife, such as deer, moose, elk, beavers (photo at right), eagles, and many other types of birds. There are bears and wolves in this area as well, but there is less chance of seeing any of them. We will have bear spray just in case.
There is spectacular scenery along the Peace River (as you can see by these pictures)! The River has carved a path for itself out of ancient shale and sandstone, creating spectacular cliffs and revealing fossils. We'll stop in a few spots to do a little rockhounding along the shore. We'll see oil and gas exploration sites, including a patch of dead forest where an abandoned well once burned for many years! We'll see many islands, forests and creeks. Although there are more remote sections of the Peace River, this is probably more wilderness than you've experienced before.
This special trip is CDN$621 per person (including tax), which includes:
– transportation to/from the airport and/or your vehicle.
– canoes and all safety equipment.
– all camping gear you need for the trip.
– all food. When you call to reserve your spot, we will ask your food preferences and/or allergies — We will have a vegetarian menu, but also have no problem accommodating vegans.
– the bed & breakfast the first night.
You supply:
– clothing and personal items, such as a washcloth and toothbrush (a list of recommended items will be provided)
– prescription medications
– transportation to the town of Peace River or Grande Prairie
Please contact us as soon as possible to express your interest and ask any questions you may have.