December 31st, 2012

Happy New Year! As we look back on 2012, we wanted to share some things that we're very pleased about and some things we are looking forward to in 2013.
York Boat Expedition

Hooray for another successful York Boat expedition! Along with Jae Penner of Peace Valley Woodcraft and everyone at GeoTourism Canada, we are so pleased with how the trip went this year. Stay tuned for plans for 2013! We are working with all the partners and past crew members to formulate the best plan for offering both long and short trips on the boat. It is such an amazing experience, we are looking forward to sharing it with more people. If you are interested in being a partner, please contact us without delay!
Canoe Camps
We once again offered several successful canoe camps, including a very special one for the students of the tiny country school, Dr. Mary Jackson School. The students and principal were such a joy to work with! Thanks so much for making that canoe camp so rewarding! This canoe camp was actually "Paddle the Peace Junior" (read more about Paddle the Peace below).
Memorable Trips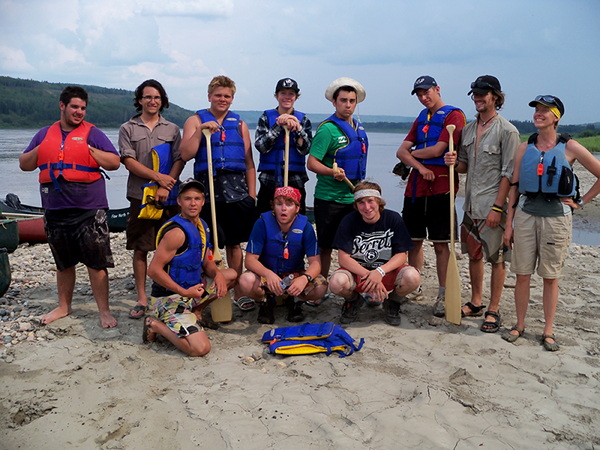 The three-day trip with the Junior Forest Rangers of Sustainable Resources Development was once again, a very memorable trip. We thoroughly appreciated each young man's positive attitude and the excellent leadership displayed by the two staff, Mike and Rob. You guys are such great examples (and also very cool)! 🙂
Paddle the Peace
We once again partnered with the County of Northern Lights, Northern Sunrise County, the Town of Peace River, GeoTourism Canada, Mighty Peace Tourist Association, the Government of Alberta and the Alberta Sport, Recreation, Parks and Wildlife Foundation to offer Paddle the Peace in Peace River, AB. Weather for the day was perfect and we all agreed that the August date worked better than the June date we had tried in 2011 (it was cancelled that year due to high water levels). Flow North offered canoe lessons for adults — which were completely sold-out — as well as helping with the safety briefing and other logistics on the day of the event. We'd really like to thank Teresa Tupper from the County of Northern Lights for all her hard work!
Presentations
Teresa was pleased to do a 1+ hour presentation at the Peace River Museum and Archives this year. She spoke about her solo paddling, sublime experiences on the river, and how surviving a thunderstorm outdoors with no shelter changed her life. Everyone in attendance thoroughly enjoyed her slides and storytelling.
Teresa and Cheryll also gave a presentation to two lively grade two classes from Florence Macdougall School in High Level. The kids loved seeing pictures of the York boat and touching the HBC coat, but I think what they remember most is the taste of bannock and dried moose meat they got to try!
In 2013…
As mentioned, we are working on the exact details of our York boat offerings for 2013. We know you need to plan in advance, so we'll be releasing the plan soon!
We will once again be offering trip guiding to interested groups — please contact us well in advance so we can discuss where you would like to go and what we can do to make your trip extra-special.
We are still happy to offer our drop-off and pick-up service for those paddling long distances. 🙂 Making use of your vehicle is the most economical way, but even if we use ours, it's not as expensive as you might think. Contact us for more info!
Best wishes for 2013 and beyond!