March 17th, 2011

It's official! Flow North Paddling Company is working with GeoTourism Canada to manage their York Boat Project. We have obtained copies of York boat plans created in the 1970's from the last surviving boats. We received three quotes for York Boats and settled on Northwoods Canoe Company of Cochrane, AB, to build the boat. They have begun construction and anticipate completion in mid-May. This puts us on track for an expedition from Fort Dunvegan to Fort Vermilion — 538 km — to start around June 1.
York boats were used in the latter part of the fur trade. The Hudson's Bay Company started building wooden boats of varying design when they began moving to inland posts, primarily due to competition from the Northwest Company. At the peak of their use, more than 200 York boats were used at once on rivers and lakes across Canada. Indeed, some say that Canada may not have become a country without the York boat. Their use allowed for more efficient transportation of furs and trade goods and helped establish a key settlement at the forks of the Red and Assiniboine Rivers (Red River Settlement, now Winnipeg). As few as five of the large York boats (13 metres long) could haul as much freight as a shipping container.
Flow North is coordinating the crew selection process. Apply using this online form, hosted on GeoTourism Canada's website. Crew members will be selected based on:
– strength and endurance
– mental toughness
– ability to work with a team
– willingness to live as a yorkman for the duration of the trip.
Interested people must complete their application by April 4. Those who are shortlisted will be contacted to perform physical tests. People wanting to participate should have May 24 – June 18 available.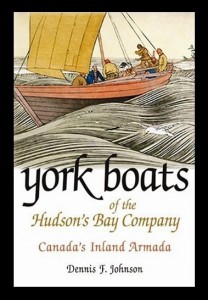 Facts about our York boat
length
10.1 m (33′ 3″)
width
2.4 m (8′)
depth at centre
0.9 m (36″)
weight (estimated)
1050 kg (2,300 lbs)
York Boats of the Hudson's Bay Company by Dennis F. Johnson is an excellent book about York boats.